Veterinary Pharmaceutical Products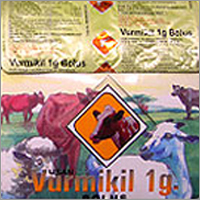 Product Description
Since our rise, our firm has been engaged in offering supreme grade Veterinary Pharmaceutical Products. The provided products are suitable for prevention and treatment of disease and injury of animals. Tested by quality auditors on numerous measures, these products are immensely appreciated for their accurate formulation and non toxicity. The offered products are also helpful in relieving pain in cats after surgery. Also, these Veterinary Pharmaceutical Products can be easily purchased from us at reasonable prices.
Features:
Control ticks and mites
Stimulate bladder contractions
Show immediate results
Effectiveness

Specification

DABENDAZOLE - Albendazole Bolus 150 mg Bolus 20x5s Blister Pack
DABENDAZOLE - Albendazole Bolus 300 Mg Bolus 10 x 5s Blister Pack
DABENDAZOLE - Albendazole Bolus 600 Mg Bolus 10 x 5s Blister Pack
DABENDAZOLE - Albendazole Bolus 2500 Mg Bolus 10 x 5s Blister Pack
Vurmikil 1gm Bolus (Levamisole BP 1gm) 6x5s Blister Pack
Vurmikil 150mg Bolus (Levamisole HCl BP 150mg) 20x5s Blister Pack
Vurmikil 150mg Tablets (Levamisole HCl BP 150 mg) 10x10s Blister Pack
Vurmikil 500mg Bolus (Levamisole HCl BP 500 mg) 10x5s Blister Pack
Sulphadimidine Bolus 5gm 10 x5s Blister Pack
Sulphadiazine 1 gm + Trimethoprim 200mg Bolus 10x5s Blister Pack
CIP-Z Bolus (Ciprofloxacin 1500mg+Tinidazole 1800mg Bolus) 6x5s Blister Pack
NORVA BOLUS (Norfloxacin Bolus) 6x s Blister Pack
OXY BOLUS 3 gm (Oxyclozanide 3gm Bolus) 5x4s Blister pack
FENDA Bolus 150mg (Fenbendazole Bolus 150mg) 5x4s Blister Pack
FENDA Bolus 1500mg (Fenbendazole 1500mg Bolus) 5x4s Blister Pack
CARE BOLUS (Bolus of Cobalt+Iron+Copper+Selenium+Yeast) 5x4s Blister Pack
D. L. Tetramisole 600 Mg Bolus 13x4s Blister Pack
OFLOXACIN 200MG 10x10s Blister Pack
NOR -400 (Norfloxacin B.P. 400mg) 10x10s Blister Pack.
Our main export areas are South African and Middle East countries.
Get in touch with us